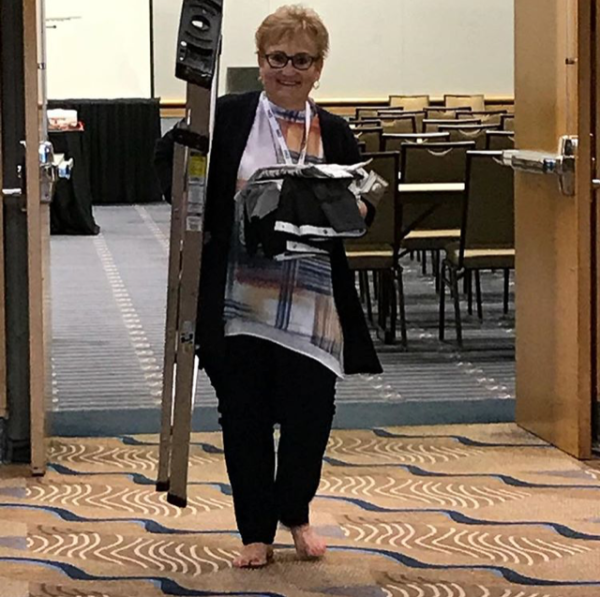 Cheryl went after a long term dream of hers this year and she soared!  Recently Cheryl travelled to Tampa Bay Florida for the IWCE (International Windows Coverings Expo) 2018 to present her Window fashions master class. She has attended this convention many times over the years and it has taken her to places like North Carolina and Las Vegas. The IWCE is an expo that brings suppliers, workrooms, designers and key note speakers together to educate and inspire the window fashions industry. As an attendee she has been inspired by the showroom floor with innovative products from Dofix a "no sew" company  and Rowley a supplier that has made specific workroom tools and supplies for the workroom like grommet machines, making it easier and more professional for the ladies that sew.
Cheryl has attended many guest speakers and has been inspired but something ignited in her one year as she listened, and she thought "Hey I could do this, and I can bring the goods with me, not just a powerpoint or paper hand out will do"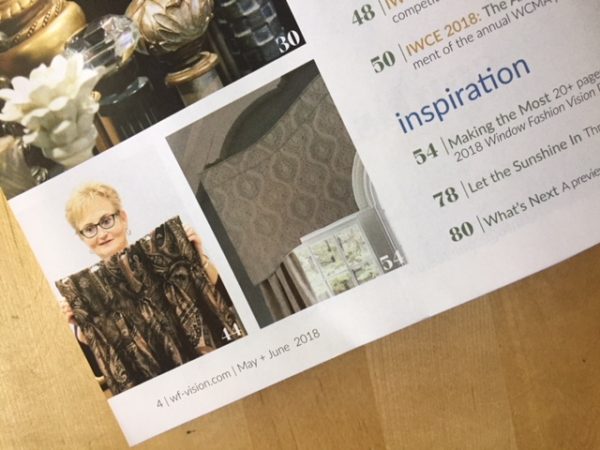 As a committed entrepreneur and self motivated woman of vision Cheryl has always valued innovation. She has invested countless hours (and $) into bringing something new to the builders, designers and home owners of Edmonton and Western Canada for years and now it was time for her to bring her knowledge to the international stage. Cheryl created three separate courses just for this show, tweaked the content to be specific to the needs of this global stage. One highlighting specifics on window fashion styles, one on hardware and one on picking the right fabric for the right job. Life not without its twists threw one (or two) at her right before the trip and the Master class presenter was no longer able to be there and Cheryl was asked to turn her courses into one big one as well!  Well no challenge too big for this lady, she hit the books and redeveloped her courses into one big master class, plus she still put on her original courses on hardware and style. A busy week to say the least!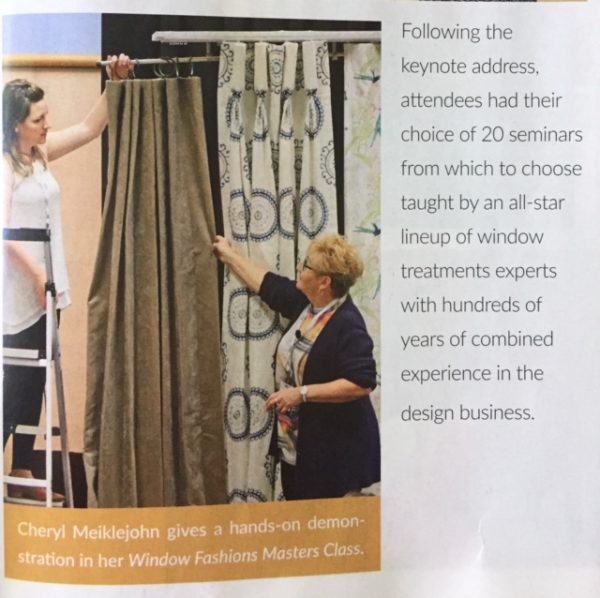 Full length drapery samples AND hand sized ones to match were made and shipped (literally across the continent) to give a hands on, visually packed seminar. It wasn't without (twist number two) and some border crossing challenges that Cheryl still insisted these samples be a part of her master class. "People needed to see what is possible, people needed to be inspired, able to touch and examine the styles to truly appreciate what makes each pleat its own" declares Cheryl. How is hangs is so important to the finished look and Cheryl understands this more than anyone so she made travel bags and shipped 600 pounds across two countries to bring the people who were hungry for education what they needed to succeed.  The room was packed with workrooms and designers taking picture after picture and asking questions about operation and hang. It was a buzz of education, and Cheryl knew her stuff! No question went un answered and no new idea was rejected. It was a two way street, a conversation between the group, a place where people were coming together to solve problems and left knowing more than when they came.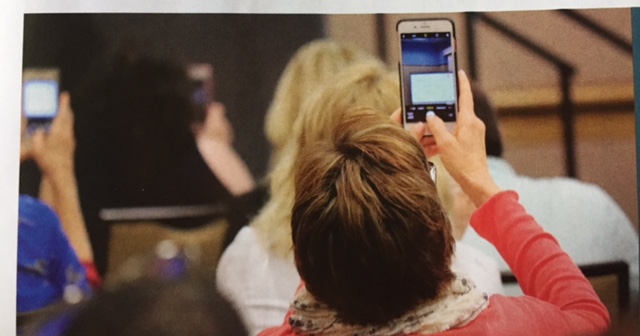 Cheryl is constantly re vamping her showroom and educating herself, employing people to help get the job done when its needed and has "getting people want they want" at the centre of everything she does. She tries to please everyone but more importantly she tries to educate you. Her classes are hosted all over Alberta now, watch for new events on the calendar and stay in touch to find out how you can be a part of this! Window fashions are a changing industry but the value of custom is still unmatched. Educate yourself on why and stay current when it comes to this finishing detail in interior design.
Photos taken by the Window Fashion Vision Magazine, a publication for the window covering industry.